Contents
Smart Working Environment
Almost everyone ever working at Ymese loves it!
English working environment
All task descriptions, documentation, and materials at YMESE are presented in English. Team members have to use English to communicate, update task status, and report.
If you want to constantly improve your English proficiency, YMESE is the ideal working place.
Challenge-driven culture
As part of our startup culture, you will get many opportunities to learn and work in multiple areas and technologies.
Get ready though. You may get assigned to take charge of the entire product or marketing campaign in your first working days.
Young, wild & friendly colleagues
Having cold colleagues and distant bosses? It won't be the same at YMESE.
Our team consists of young, smart, and funny folks sharing the same core values and missions. We always welcome and treat newcomers like a friend and family member.
There are always seats for creative and talented individuals to work and grow with us. Will you be our new friends?
Casual work attire for everyone
No dress codes are required at YMESE. You can wear any clothes that make you confident and comfortable.
Dress for success and comfortability 😛
Flexible working hours (8.30 AM – 5.00 PM)
Flexible working hours with a 1-1.5 hour lunch break daily. Sound good, doesn't it?
We start a working day by having a standup meeting at 8:30 am. So please get ready and show up before 8:25 am. At YMESE, "on time" means "late".
Freedom to manage your own and teamwork
Feel free to manage your work and do the tasks in your own style.
If you have any ideas or find something that could improve the project, just put it on the table. Our team can help you review it.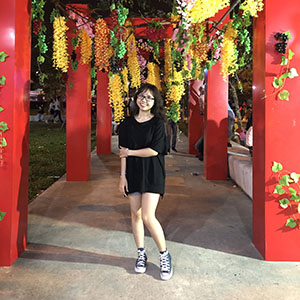 Clearly, teamwork and an encouraging workplace environment contribute to the success of the company.

– Dieu Trinh, Digital Marketer
Competitive Salary & Bonus matching your Contributions
Forget experience and certificates. You will get what you deserve at Ymese.
Mid-month salary payment
You will get your full salary on the 18-19th of the month – not at the end of the month; not early next month. How good is that?
What if your pocket is empty on the 30th? Don't worry. You still have a bonus at the end of each month.
Monthly performance-based bonus
Expect to get a decent bonus if you perform well in that month.
Monthly "bonus of bonus"
What if you achieve significant targets and are recognized by your peers as the "Employee of the month"? A 1,699,000 VND in cash plus a beautiful certificate will be rewarded to you.
13th-month salary
After spending at least one year at YMESE, you will receive the 13th-month salary at the end of the year.
14th & 15th-month salary
Apart from the 13th-month salary, the "Employee of the year" will receive the 14th and 15th-monthly salary.
Education: keep learning every day
"Formal education makes you a living. Self-education makes you a fortune!"
Books & courses
All members are encouraged to enrich knowledge by reading and attending courses. You can request to buy any self-help books or join any interesting courses. And if they're fruitful, we'd love to pay the fee.
Networking events
There are many workshops or talk shows in town where you'll be able to meet and connect with a lot of specialists and influencers.
Feel free to let us know and we'll be happy to sponsor (parts of) the cost.
Technical & mindset training: how to become a winner
Surrounded by "winners", you will soon become one. Learn and get the first-hand experience on how to build a product from scratch (vs doing outsourcing projects). You'll get to know that theoretical knowledge and even experience mean very little in the real world.
Paid competitions, e.g. running, Toastmaster, & IELTS test
If you want to take part in any competitions to improve or test your skills, don't hesitate to let us know. Your efforts and certificates are recognized, praised, and sponsored by YMESE.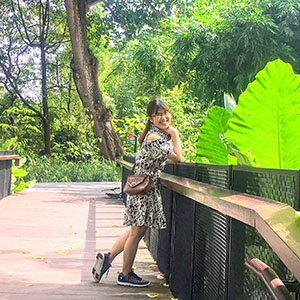 "Have learned tons of interesting knowledge from the boss and crazy colleagues

– Mai Phuong, HR Staff
People First, literally
Who dares to say so with confidence?
Free massage & movie tickets
Excellent contributions get on the spot rewards. Free movie tickets & massage vouchers are one of a bunch of presents you may receive when contributing good ideas to improve our system and company as a whole.
Regular one-on-one reviews
You have at least 2 one-on-one comprehensive reviews a year, which give you chances to share your thoughts, ideas, and expectations with the board, together with reviewing your performance.
You can also request a private meeting with the CEO at any time if necessary.
Employee Education Grant
YMESE respects and invests in our members' hobbies and passion. The YMESE Education Grant provides a way for all Ymesers to pursue their own personal projects.
Employee Profit-sharing
Depending on your contributions, you may get a percentage of the company annual profit after passing the 2-year vetting.
Female employees
Menstrual period
Every female employee has a maximum of 5 hours each month to take a rest during the menstrual period. You can either end work early or take one entire afternoon off with short notice to the HR staff.
Beauty care
Once entering your 2nd year at YMESE, you ladies will be entitled to receive 120,000 VND monthly for skin/body care purposes. This bonus increases in your 3rd and 5th year.
Unique Team Building & Bonding
We build a strong and united team who in turn develops awesome products and happy customers.
Lunch gameplay
Lunchtime is not about just having lunch. We rock the break time by sharing jokes, playing exciting games, and creating memories.
Regular team dinner
Why don't we mark an outstanding working day by dining out? We love drinking, having a chit-chat with teammates, and boasting about what we've achieved.
Birthday & employee anniversary party
YMESE is not just a working place. We are also a family who takes care of each member, especially on your special birthday. We bring cake, presents and surprising gifts to celebrate your day.
Frequent talk shows
Feel free to share your thoughts and ideas of anything, from your own experiences to new techniques you've just acquired. Based on the topics, the team can discuss, learn, and contribute to further projects.
Company annual trip & team outing quarterly
Work together, go together, play together, have fun together. That's why we hold multiple team outings, trips, and parties across the year.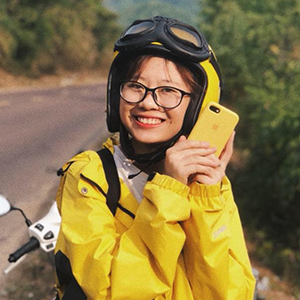 "My first impression about YMESE: a young, enthusiastic and funny team. Really supportive and energetic.

– Thuy Dieu, Digital Marketer
Health, above all
"Three things in life – your health, your mission, and the people you love."
Annual health examination
Employees who have worked at YMESE for at least one year will have a yearly health check at a reputable medical center.
Premium health insurance
Depending on the performance and seniority, outstanding employees can receive a premium health care insurance package.
Gym membership
We support employees' mental health and physical health. Working out is very important after spending hours at your desk.
That's why we're happy to pay a partial gym membership fee (up to 2 million VND/year) for team members who have been working at Ymese for more than 1 year.
Commuter benefits
Based on the distance between your house and the office, you'll receive an extra monthly commuter bonus that helps free you from the fuel cost worries. Here's how it's calculated:
Less than 5km: 50,000 VND
From 5km to 10km: 100,000 VND
More than 10km: 150,000 VND
This benefit applies to both full-time and interns working at YMESE.
Weekly sports activities, e.g. Football, Badminton, Bowling sessions
We are colleagues at work and friends outside the office. We love playings sports and having dinner paid by the losing team.
It's cool to participate in outdoor activities and learn to play new games after long hours in the cubicle.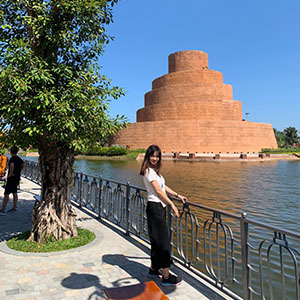 "Who's Ymese? – A strong, diverse team of curious, creative people who want to find a purpose in their work and support each other in the process.

– Hien Trinh, Marketing Intern
Provided Food & Drinks all-day
"Let food be thy medicine and medicine be thy food"
Healthy & fresh cooked lunch
Unlike other companies, YMESE offers all members fresh and nutritious lunch at the office. You don't have to go outside in the heat of noon to find good food.
In fact, you can enjoy a healthy lunch right in the comfort of our dining room. More importantly, we'll have more time to get to know one another better.
Free snacks, coffee & drinks
The pantry is always full of coffee, tea, and snacks that will satisfy your hunger in the late afternoon. What's more, we also have fruit days and pizza time.
Ordered tea meal
Getting sick of the usual drinks and snacks? Let's pick a shop and order all your favorite food.
We don't forbid members from tasting good foods while working. In fact, we prefer having small breaks, drinking milk tea, and discussing tasks together.
Give Back
Contributions to the open-source community
3-5% discounts for all non-profit organizations worldwide
$100 monthly donation to Red-cross, humanitarian organizations, and community